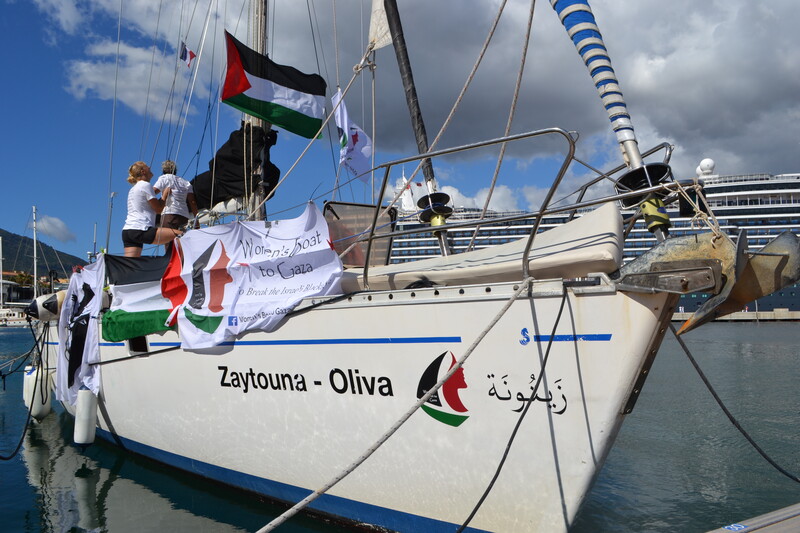 "If somebody falls overboard, all you see is their head. It's about the size of a coconut."
With those words, Captain Madeleine Habib ensured the attention of her passengers, all now digesting the image of the vastness of the sea enveloping a human body.
Habib, a Tasmanian-Egyptian and an experienced captain with Greenpeace and Doctors Without Borders, was delivering the safety briefing to the all-women passengers of her boat, the
Zaytouna
. The three crew and 10 passengers were preparing to leave the port of Ajaccio, the Corsican capital, for Messina, Sicily.
The
Zaytouna
is part of a now one-vessel Women's Boat to Gaza flotilla after its sister ship
Amal
was forced to return to Barcelona because of engine trouble. It was not the only boat in the harbor of Ajaccio, but certainly the
Zaytouna's
purpose — international solidarity, not leisure — was unique.
The Women's Boat to Gaza flotilla is the most recent international attempt to break the near decade-long sea, air and land siege of Gaza. There have been other attempts, and some, like the
Mavi Marmara
in 2010, ended in violence when the Israeli navy stormed aboard. Nine activists were killed on the
Mavi Marmara
and a 10th died after four years in a coma.
More
https://electronicintifada.net/content/womens-boat-gaza-ready-break-blockade/18081